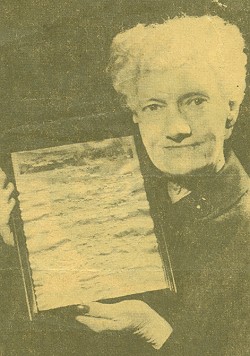 Mrs. Bonnie Cope, mother of Seaman James R. Van Horn, the young Tucson sailor who went down with the Battleship Arizona at Pearl Harbor, shows the copper plaque on which Mayor Don Hummel proclaimed Monday, Dec. 1, 1958, James Van Horn Day in Tucson.
James R. Van Horn


In the spring of 1941 Jim Van Horn - a sophomore at Tucson High and just turned 17 - heard a recruiting talk by Adm. Isaac Kidd and decided to quit school and join the Navy.
A few short months later - Dec. 7 - Seaman Van Horn and Adm. Kidd both went down with the battleship Arizona when is was bombed in the sneak Japanese attack on Pearl Harbor.
[Next] Monday, Dec. 1, will be James Randolf Van Horn day in Tucson, according to a proclamation by Mayor Don Hummel. The observance is being held in connection with a state-wide funds drive to build a memorial museum over the battered remains of the ship at Pearl Harbor.
Van Horn is among the 1,102 sailors and marines still locked within the ship's rusted hulk.
In proclaiming the special day Hummel presented a copper memorial plaque to Van Horn's mother, Mrs. Bonnie F. Copoe of 5253 N. Casa Grande Rd.
Remembering the day in 1941 when her son, who had lived all his life in the desert, decided to go to sea, Mrs. Coope said, "James never said anything about the Navy until he heard the admiral talk. Then nothing could hold him. He was inspired. He wanted to go."
It was pure coincidence - and perhaps irony - that Adm. Kidd, then commander of Battleship Division 1, was on the Arizona when the Japanese struck. The boy and his idol went down together.
James enlisted in June and took his boot training at San Diego. He had a choice of ships but chose the Arizona because it was named after his home state.