| | |
| --- | --- |
| | Remnants of a Superstructure |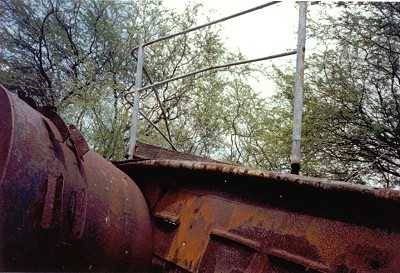 Before construction of the U.S.S. Arizona Memorial could begin, the area below the boat deck, which included the galley, had to be removed and was unceremoniously dumped on Navy property on Waipio Peninsula, Oahu, Hawaii, where it remained undisturbed and forgotten.
ADM Kelly, Commander-in-Chief of the Pacific Fleet in 1992, responded to Lorraine Marks-Haislip's request for information concerning the availability of the superstructure.
Through an Act of Congress, the rusting Arizona superstructure was released to qualified organizations. March 1993, Richard Brady, Public Affairs Officer for the Navy, at the Pearl Harbor Navy Base contacted Mrs. Haislip. She flew to Hawaii, April 1993, to photograph the rusting pile before it was disturbed. These are some of the photos from that trip.
Donald L. Johnson, Professor Emeritus, University of Nebraska-Lincoln, Material Science and Engineering, contacted Mrs. Haislip after an article appeared on the front page of the Arizona Republic newspaper in Arizona.
Reporter, Betty Beard, along with a photographer, conducted an extensive interview in the Haislip home. Rusting metal off the USS Arizona superstructure was photographed. The photographer selected a 35M photograph of a 'vent' Mrs. Haislip had taken while in Hawaii, February 1998 and inserted it on the front page with the familiar photo of the burning USS Arizona BB-39.
The photograph of the rusting vent is NOT an Associated Press photograph. The caption did not recognize Mrs. Haislip as photographer or Dan Martinez, Arizona Memorial Historian, who supported the rusting artifact.
Before Dr. Johnson left on his planned trip to Hawaii, he asked Mrs. Haislip if she knew of anyone he could contact in Honolulu who could assist him in obtaining pieces of the old metal for testing. Daniel Martinez was given authority by the Navy to enter Waipio Peninsula and therefore, was the initial contact for Dr. Johnson.
Conducting tests on the rusting metals off the Arizona could not have come at a more suitable time. June 30, a local television station in Arizona reported the U.S.S. Arizona was leaking. Kathy Billings, Superintendent of the Arizona Memorial reported the condition of the Arizona's hull is the same as in 1984, 85 and 86. Daniel Lenihan, who edited, "Submerged Cultural Resources Study" was at the Arizona Memorial and reestablished the monitoring program so the condition of the hull could be observed. Kathy emphasized, "It is not going to collapse." This study was subsequently aired on national television.
On behalf of Dr. Johnson and with his blessing, Mrs. Haislip then wrote to Representative Patsy Mink, Senators Daniel Akaka, Daniel Inouye, Phil Gramm and (Sen.) John McCain requesting information concerning federal funding or private grants that could finance this vital study.
Please click the links below for additional information and letters.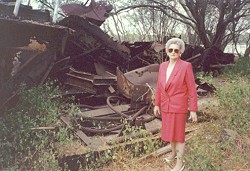 Lorraine Marks-Haislip with Remnants
See Also: Letter re: Remants
Remnants Start | Sacred Metal Article | Sacred Metal 2 | Don Johnson Letters | Don Johnson 2 |
Rusting 1 | Rusting 2 | Rusting 3 |

Copyright © 2002-2018 Lorraine Marks-Haislip