| | |
| --- | --- |
| | The Attack |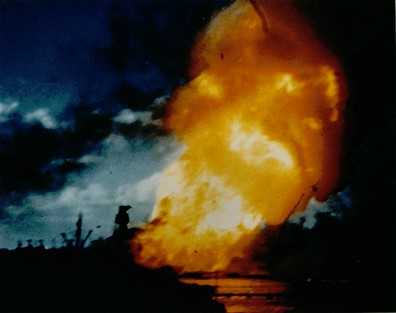 THE USS ARIZONA SINKS DECEMBER 7, 1941


The Japanese attacked the fleet anchored in the clover shaped harbor of Pearl Harbor at approximately 7:45 a.m.
The total muster roll on that day was 1512 Navy and Marine personnel, and included everyone who was on leave, liberty, temporary duty (including schools), those on recreational party and one transferred from the USS Solace who reported to the Receiving Station at Pearl Harbor.
Casualties numbered 1177 with 334 survivors. 75 bodies were recovered after the fires were extinguished leaving a total of 1102 crewmen entombed.


SALVAGE EFFORTS


Salvage efforts were started soon and as the superstructure and gun turrets were removed more bodies were found and sent to the hospital for possible identification. They were then buried at the Military cemetery located in an extinct volcano high above Honolulu, Hawaii, called the Punch Bowl.
The approximate number entombed now is 902-945. Ensign Jim D. Miller was aboard 7 December 41 and in his message at a recent symposium he said that from 200-250 crewmen survived the burning ship that day. The remaining survivors, either 84 or 134, were attached to the USS ARIZONA on 7 December 41 but were off the ship as stated before. Had these men been aboard they would have died along with their shipmates.
Edward Joseph Marks, husband of historian Lorraine Marks, was on reenlistment leave when the ship was sunk. Everyone in his division, the 2nd, was killed.
This was the largest single Naval disaster in the United States history. Almost half of the 2,403 killed in Pearl Harbor December 7, 1941, were aboard the Arizona.

Telegram reads:
EXECUTE WPL FORTY SIX AGAINST JAPAN

HISTORY TO NOT REPEAT


On the anniversaries of Nagasaki and Hiroshima's destruction by the atom bomb, church bells ring in solemn tolling for the tragedy.
Historian Lorraine Marks-Haislip has been asked by Arizona crewmen who survived the bombing and sinking of the Arizona and still suffer with injuries, physical and emotional, to remind our youth that no bells are tolled for the 2403 killed in Pearl Harbor, 1177 aboard the USS ARIZONA.
The cities in Japan would have never been bombed if the Japanese Imperial Government had not dropped the first bomb on the US Military bases and Navy ships in Pearl Harbor, Hawaii.
WAR HAD NOT BEEN DECLARED.
History records President Franklin Delano Roosevelt called it a "sneak attack".
We have to guard against history repeating itself. We have to remember PEARL HARBOR.
Copyright © 2002-2018 Lorraine Marks-Haislip