White House
Involvement
Please please patient while this page completely loads.
Several images have been incorporated on this page in order to provide continuity of this important time-line of some of the several letter exchanges between Lorraine Marks-Haislip and officials.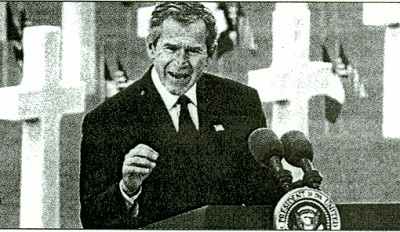 The following letters prove that one person CAN make a difference. Many hours and many letters later, the rewards were that the men were given due the proper respect after years of waiting.
Please, read carefully the powerful communiqué (left) from the White House, dated May 20, 2002.
Desiree Thompson, Special Assistant to the President and Director of Presidential Correspondence, wrote this response prior to the Presidents' visit to the International Memorial Cemetery in Normandy, France for Memorial Day Services.
The first paragraph 'thanked us for contacting the White House regarding our situation with a Federal agency.' Slip and I were unaware that our request, dated November 29, 2001, had been addressed by the President or that action had already been undertaken.


From our motel room in Dillon, Montana we saw President Bush walk through the rows of white crosses Because I had referred to 'White Crosses' in my fervent plea, the white crosses were very significant. That act by President Bush confirmed in my heart that he had received our letter.
At this point I will include a copy (left) of our impassioned, urgent request concerning the remaining 178 unknown Pearl Harbor fatalities that had been denied recognition on each grave in time for the 60th Anniversary of the bombing of Pearl Harbor.
As you read the following correspondence and comments you will understand why the letter to and from the White House was necessary.




1 | 2 | 3

Four businesses in the Phoenix Metropolitan area joined forces and the 252 white crosses were shipped to Hawaii in time for temporary installation on designated unknown grave sites in time for the 60th Anniversary Ceremonies in the National Memorial Cemetery of the Pacific, also known as Punchbowl.
Moore Graphics, Kevin A. Moore, owner, put us in touch with his 'sign guy', Thomas Bogan, Signwright, Signs of All Kinds, who designed the crosses according to our specifications and prepared the cross arm according to Ray Emory's facts and figures. He was so interested in our project that he contacted "SIGNS UNLIMITED" whose new facilities could handle the construction, painting and the addition of the black lettering by Thomas Bogan on all 252 cross arms. Eric DuFriend, SIGNS UNLIMITED, contacted Dave Coles, LYDEN AIR FREIGHT, concerning the shipment of the two crates that contained the completed crosses. LYDEN AIR FRIEGHT shipped the crates from a Los Angeles Port, October 23, 2001 with expected arrival date in Hawaii to be October 29 or 30, 2001.


That was the exact date I received the letter (left), dated October 15, 2001, from Robin Higgins, the political appointee to the coveted position as Under Secretary of Memorial Affairs for the Department of Veterans Affairs. She responded to our letter to DVA Secretary Anthony J. Principi.
Because the USS ARIZONA had been engraved on new granite grave markers and installed before the 60th Anniversary Ceremonies in 2001, we, Lorraine E. Marks-Haislip and my husband, Charles W. Haislip, who served aboard the Arizona from September 1936 until May 1941 wanted to make sure that all unidentifiable casualties killed at Pearl Harbor on 7 December 1941 would be remembered in time at the 60th anniversary, we paid for those crosses (see letter below left). Why! Because we owed those men, who not only gave the ultimate sacrifice, but their God given identities, more than we can ever repay.
No response from the DVA or the security division was received.
It was at that time Slip and I faced another personal tragedy. My youngest daughter and Slips step daughter, Robin Marks, was dying from cancer and I flew to her side. She died November 5, 2001, the second of our youngest daughters to die from that dreaded disease in five months. When I returned home on thanksgiving, I decided to write a personal letter just to President Bush and ask for his intervention because of the denial by the DVA and the continued refusal by the Army Mortuary Affairs even after General Eric Shinseki, Army Chief of Staff informed the late Honorable Patsy T. Mink, Representative from Hawaii, that there would be no more delays. No more correspondence was received.


Last Spring Ray Emory called and informed me that his contacts in Washington, D.C. told him, "They are cleaning house back here." My last letter from Anthony J. Principi, DVA Secretary, was written April 12, 2002. He wrote in the past tense.
That is when Slip and I left for our two and one half month trip and our stop in Dillion, Montana as I have stated earlier.
When we returned the end of July, I contacted Ray Emory to learn what had occurred while we were away. A very excited Ray Emory reported that I did not have to write any more 'unknown grave marker' letters. General Shinseki, Chief of Staff for the Army, had sent Gisela M. Courduff, Chief, Memorial Affairs & Administration Branch, Casualty & Memorial Affairs Operations Center for the Department of the Army, to Hawaii to inform Eugene Castagnetti, Superintendent at Punchbowl (NMCP) that he was to order the new 178 grave markers that would identify the ships of the remaining unidentifiable Pearl Harbor fatalities before 7 December 2002!

After we opened our extensive stack of mail, I called Ray Emory and read him the May 20, letter I had received from the White House. Read, again, that letter at the beginning. The key word is 'further.' Action that had already been undertaken was more extensive that we realized. During a telephone conversation with Ms. Corduff, I learned she was the only employee in the entire Army MA&CSD. She stated the place was empty! When I told Ray Emory what Ms. Courduff said, he replied that a decision of that magnitude had to come from a higher office than General Shinseki.
Another announcement from a DVA employee, confirmed that Robin Higgins, political appointee to the coveted position as Under Secretary of Memorial Affairs, as of September 1, 2002, is no longer in that position and Roger Rapp, as I understand is the highest civilian employee in the DVA, Memorial Affairs, has retired.
My last letter to the Honorable George Bush, President of these United States, dated September 4, 2002, stated,
"On behalf of the unidentifiable Pearl Harbor fatalities, we thank you."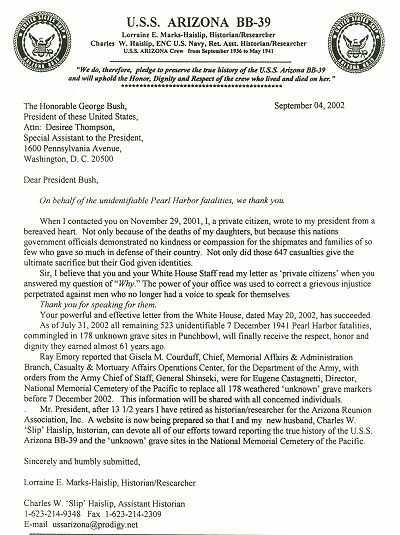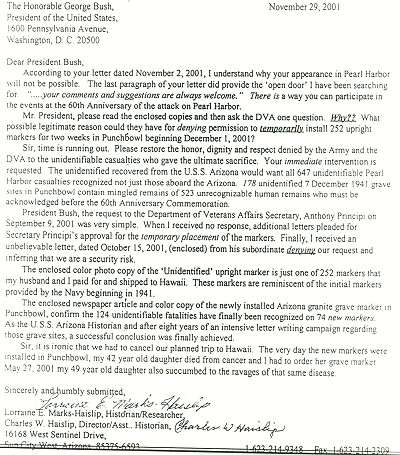 Back To Reading
Copyright © 2002-2018 Lorraine Marks-Haislip