Adopt A Grave
61st Anniversary, December 2002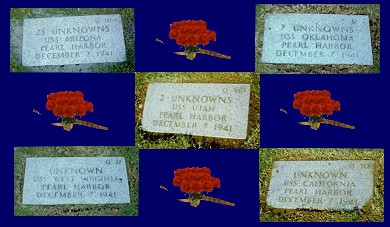 The National Memorial Cemetery of the Pacific and the Honolulu Memorial have several "unknowns" gravesites that have not had flowers on them for a very long time.
For many family members of lost loved ones after the attack on Pearl Harbor, many of these men remain unidentified and it becomes difficult for those who are missing loved ones and others to visit these graves and place flowers in memory.
The following graves for the USS Arizona are up for 'adoption' to send flowers to:
Section A:
#86, #150
Section B:
#587
Section E:
#49, #123, #205, #401, #402, #508, #606, #614, #705, #715, #718, #724, #725, #818, #929
Section F:
#567, #1123
Section M:
##111, #282, #320, #713
Section N:
#536
Section Q:
#29, #31, #41, #46, #63, #68, #138, #141, #199, #355, #525, #688, #690, #696
Section Q:
#697, #785, #852, #871, #939, #957, #958, #959, #960, #975, #976, #977
Section Q:
#1020, #1021, #1031, #1032, #1036, #1047 (? Scilley, H.), #1048, #1146, #1147
Section Q:
#1148 (? Roach, R.), #1158, #1159, #1162, #1163 (Disinterred), #1164 (Ashes 25), #1165
Section Q
Turret #2:
#107, #108, #110, #111, #112, #113, #114
There are two ways for you to send flowers:

You can choose a section and grave number and call Dale at Honolulu Florist, the local florist there at 1-800-533-3288. Dale has been kind enough to contribute putting "flowers on the unknown soldiers" by cutting her delivery rates. Be sure to mention that you came to her through this site and that you are "sending flowers to an 'unknown' grave" at the:

National Memorial Cemetery of the Pacific
2177 Puowaina Drive
Honolulu, Hawaii 96813-1729


You can also visit their website at by clicking the flowers below: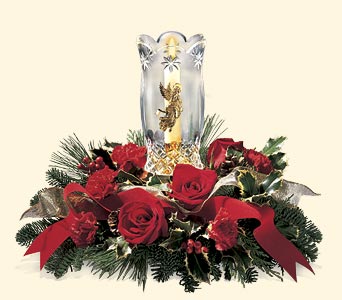 You may also send money online through the non-profit, business-to-business networking group, West Valley Business Connections, in Arizona. Please specify if you would like your donation to be a single arrangement to section/grave number or if you would prefer to have it included in the group's next larger arrangement going to the men from turret #2. You will have an opportunity to include any notations such as "In Memory Of" and list your name(s) for the card.
Please click on their logo below for that page and for additional information about the group.




In both cases, you will have a record of your donation. In the near future we will be posting a page with the names of all of those who sent flowers to these men as well. If you have ANY questions, please do not hesitate to contact us and also if you have 'adopted' a grave and would like to have your name included on this site's "Sponsors/Adopters" page when it is produced.
ALL of these men will appreciate your thinking of them.
Copyright © 2002-2018 Lorraine Marks-Haislip